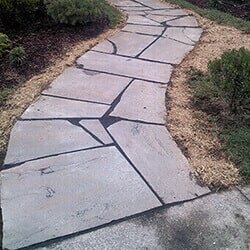 The way your patios, walkways, and steps look can make or break your property in Yorktown Heights or greater Westchester County. When it comes to these types of installations, Tom Quartuccio Jr, LLC, is the masonry contractor to call for backyard patio design, walkways and paths, and more! 
Thanks to our decades of experience and hands-on skills in the masonry trade, we can use any aggregate you desire to leave you with an exceptional-looking property. From your front steps to your sidewalk, pool deck, and everything in between, making sure that the paved areas of your property look and feel great can make a big difference for your guests!
We work with residential and commercial properties alike. Call now to learn more!
We Work With Your Patio Designs
Every property owner has a unique vision for how their home or business should look. That's why it's important for us to collaborate with you to make your ideas come to life. Ultimately, we want to create a space that you're proud to show off to your friends, family, or customers.
At Tom Quartuccio Jr, LLC, we can create and build steps, walkways, pool decks, and patios out of virtually any material, including:
Asphalt
Concrete
Flagstone
And other stonework
We can use any aggregate you want for your patio pavers in order to make your walkways and patios look exactly how you pictured them. 
Professional Walkway and Patio Installation
Once we've decided on your patio or walkway designs, we'll begin the installation process. Depending on the size and type of surface you want to create, we can even perform grading and excavation. This would apply to installing a patio, pool deck, or other large surface.
Then, after the base is prepped, it's simple for us to install flagstones, patio pavers, or even asphalt. The choice is yours. We'll design and build the exterior of your property however you'd like. At the end of the day, as long as you're happy with your backyard patio design or garden walkway, then we've done our job!
Tom Quartuccio Jr, LLC, has 30 years of experience in paving, excavating, masonry, and more. For your added confidence, we offer a one-year guarantee on all of our work. We are also licensed and insured for your peace of mind. No matter what your patio design requires, Tom Quartuccio Jr, LLC, can take care of it for you.
For a free estimate on patio and walkway installation in Yorktown Heights, Croton-on-Hudson, Briarcliff Manor, and surrounding areas of Westchester County, call today!