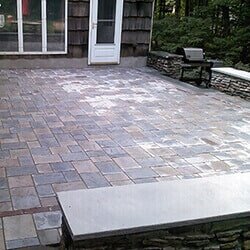 When you need flagstone installed, patio pavers put down, or repairs for your stucco home, you have to look for the best masonry contractors around. In Yorktown Heights and Westchester County, Tom Quartuccio Jr, LLC, is your answer!
For over 30 years, our local masonry contractors have worked with home and business owners just like you to repair sidewalks, install new patios and walkways, and more. Call now to get started!
Masonry Repair Services and More
If you have stone masonry fixtures around your property, the time will eventually come when they need to be repaired and replaced—especially if they are already on the older side. If that day has come, don't hesitate to call our local masonry contractors.
Tom Quartuccio Jr, LLC, can help with all of your masonry installations and repairs. Here are just some of the commercial and residential masonry services that we perform:
Patio paver installation and repair
Flagstone sidewalk installation and repair
Stucco repairs on homes
Stair and walkway installation and repair
Poured concrete installation and repair
Not Your Average Mason Contractors
We are dedicated to providing the highest quality craftsmanship and the best customer service in Yorktown Heights and all areas of Westchester County. If you have a special vision for the way you want your patio paving to go or the way you want your stairs to look, we'll go the extra mile to make it a reality. After all, our top concern is your complete satisfaction with the final product of your concrete or stone masonry project.
Plus, at Tom Quartuccio Jr, LLC, we are more than just masonry contractors. We also work in grading, excavating, concrete, and asphalt. So, if you need any of those services in addition to your masonry repair services, sidewalk repairs, installations, and more, we'd love to help.
We have 30 years of experience serving the Yorktown Heights area, and we are always glad for the opportunity to improve our community! We offer one-year guarantees on all of our work, and we are licensed and insured for your peace of mind.
Give us a call today for your free estimate on any of our stone or concrete masonry services!