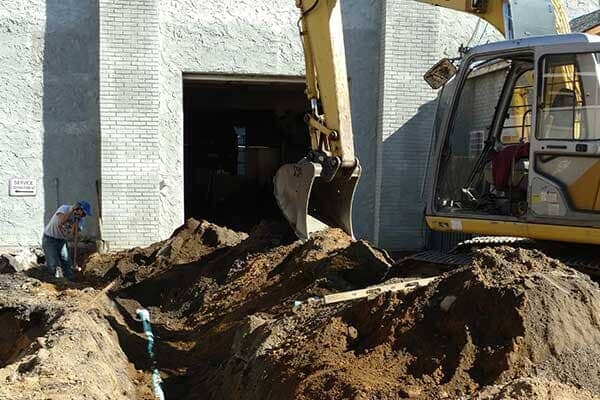 Sometimes, a new home addition requires digging up a new foundation. Other times, a new parking lot requires wide-scale land grading. But no matter what kind of project you're undertaking, if it requires hiring separate grading and excavation contractors, then the headaches will start to compound quickly. 
Thankfully, there's a more convenient option here in Yorktown Heights and surrounding areas of Westchester County! With Tom Quartuccio Jr, LLC, you'll only have to hire one grading and excavation contractor because our team does it all. Whether it's for new pavement, a concrete foundation, or water and sewer lines, we're the team you can trust to handle every aspect of the project, including the land grading and excavating.
It's just one of the many ways we make life easier for residents and business owners in our area. Call now to learn more about our land excavation services!
Versatile Grading and Excavation Contractor
Tom Quartuccio Jr, LLC, is a team of local excavating contractors you can trust for a variety of services: 
Land excavation and grading in preparation for new paving
Pool excavation
Trench excavation to install new water and sewer lines
New construction excavation for foundations
Basement excavation
And more! 
For your all-in-one grading and excavation needs (in addition to paving, masonry, and concrete), contact our earthmoving contractors today!
Water & Sewer Line Excavation
One of our most prominent and sought-after excavation services has to do with water and sewer mains. Though we are not plumbers, plumbers often hire our excavation company for water and sewer line tie-ins.
Here are just some of the water and sewer-related issues that our trench excavation services can facilitate: 
Sewer line repair
Water line repair
Sewer line replacement
Water line replacement
Sewer and water line tie-ins
Digging trenches for septic-to-public-sewer conversions
New sewer and water line installations
For assistance with these services and more, give Tom Quartuccio Jr, LLC, a call today!
We have 30 years of experience as an excavation company in Yorktown Heights, Croton-on-Hudson, Briarcliff Manor, and surrounding areas of Westchester County. It's our dedication to quality work and great customer service that puts us a step ahead of other excavating companies in the area.
We also offer a one-year guarantee on all of our work, and our excavating contractors are licensed and insured for your peace of mind.
So give Tom Quartuccio Jr, LLC, a call for all of your land excavation needs, including water and sewer line digging. Remember to ask for your free estimate!