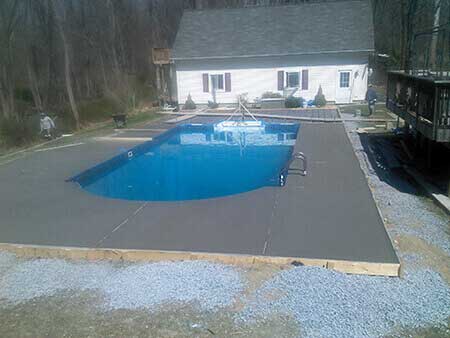 For residential and commercial concrete services in Yorktown Heights and surrounding communities, call Tom Quartuccio Jr, LLC! We specialize in a range of concrete services for your home or business, including flatwork, garages, and concrete foundations for new constructions. 
Your Local Concrete Contractors!
At Tom Quartuccio Jr, LLC, we take pride in our work. Our primary goal is for you to be completely happy with the finished product. 
When you rely on our team of concrete contractors, you can expect nothing short of excellent results from a wide range of concrete services, including:
Stairs
Steps
Patios
Sidewalks
Walkways
Pool decks
Garage floors
Concrete foundations for new construction
Concrete slab construction
And more! 
We take great pains to ensure that your concrete is installed correctly, with the proper grading, excavation, and base. After all, you choose concrete when you want your pavement to truly last! Tom Quartuccio Jr, LLC, is the team of concrete contractors that will make sure it does. 
In addition to concrete slab construction and the installations listed above, our dedicated crew at Tom Quartuccio Jr, LLC, also offers expert concrete repairs. Whether you need your old concrete steps replaced or your sidewalk repaired and reinforced so it lasts longer, we are the concrete repair contractors to call! 
Importantly, we are residential concrete contractors and commercial concrete contractors, so we can work on businesses and office buildings in addition to homes! 
Thirty Years of Experience Can't Be Wrong!
Tom Quartuccio Jr, LLC, has 30 years of experience as concrete contractors, and we'd never leave you with a job we aren't proud to put our name on. Born and raised in the Westchester County community, we want to provide all of our local customers with a solid foundation, reliable stairs, and great walkways to make your life easier and enrich your property.
Standing head and shoulders above other local concrete companies, we are licensed and insured and have worked in this area since 1990. Our quality and craftsmanship have garnered us countless repeat customers and kept us going this long! In addition, we offer a one-year guarantee on all of our work, no matter the project.
Call today for a free estimate on your concrete services in Yorktown Heights and beyond!
Please note: We do not offer decorative or stamped concrete at this time. We apologize for any inconvenience.