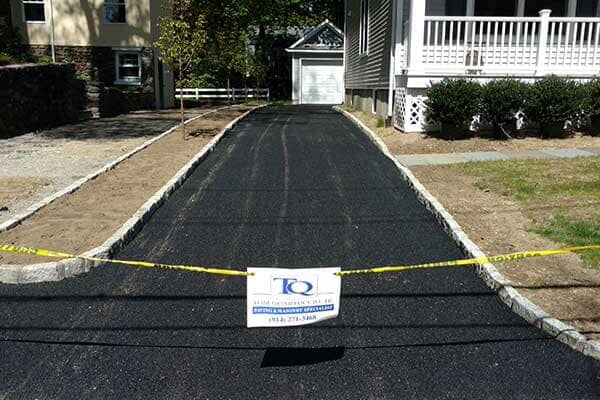 Is your driveway in Yorktown Heights looking shabby? Does your pavement need a facelift, or do you need your dirt or gravel driveway completely paved with asphalt? Tom Quartuccio Jr, LLC, can help with these problems and more in Westchester County!
Your commercial or residential driveway paving can increase your curb appeal, welcome friends, guests, and customers into your home or establishment, and protect everyone's vehicles from damage. There's no reason not to call our driveway contractors today and start your driveway paving process!
Asphalt Driveway Paving and Beyond!
At Tom Quartuccio Jr, LLC, we do more than just pave your driveway. Because we offer a long list of other, related services, you'll only have to hire one driveway contractor to get the entire job done from start to finish. Here are some of the services that we offer:
Residential driveway paving
Commercial driveway paving
Widening and expanding existing driveways
Excavating and grading as needed
Driveway apron installation
Sealcoating
Asphalt patches and crack repairs
And more!
Importantly, we also offer asphalt repair services. We can come out to fix large potholes or the smallest cracks in your existing asphalt, in addition to providing new driveway paving and aprons to extend your current driveway. We're truly your one-stop shop for all your asphalt driveway needs!
Top-Quality Asphalt Driveway Materials on Every Job
Tom Quartuccio Jr, LLC, has the edge over other driveway contractors in and around Yorktown Heights because we always use the highest-quality materials on every job. This is simply because we want your new asphalt driveway paving to last.
We've been driveway paving contractors in Westchester County for 30 years, and we understand how the weather and other external factors can affect the appearance and performance of your asphalt. That's why we don't skimp on materials and always provide the highest level of workmanship. In fact, we stand behind our asphalt driveway paving projects with a one-year guarantee!
In short, we take pride in our asphalt paving work. Also, to ensure your complete satisfaction, we communicate and keep you informed every step of the way. Whatever your driveway paving needs, from repairs or resurfacing to total replacement, call us today for a free estimate!